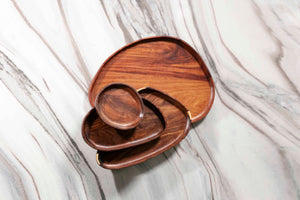 Wooden Decorative Trays
Our decorative trays help bring the magic of the jungle to your home.
Creating using only sustainably harvested, certified wood from the heart of the Guatemalan jungle, our decorative trays are designed to emphasize the beautiful tone and timbre of our exotic woods, with all-natural processing treatments to enhance durability. Itza Wood decorative trays are all hand-crafted and hand-finished in the Peten region of Guatemala, where we fund various social initiatives to enhance the local economic growth.