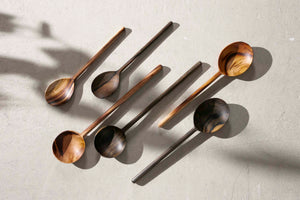 Wooden Spoons & Utensils
Small details matter. Experience the pleasure of using a hand-crafted cooking spoon to stir up and serve your favorite dish.
Each of our unique wooden spoons and cooking utensils are consciously designed for practical use, elegance, and durability. Using only sustainably harvested, certified wood from the heart of the Guatemalan jungle, our exotic wood kitchen utensils and cooking spoons are designed to emphasize the natural grain and texture of the wood, with all-natural processing treatments to enhance durability and function. Itza Wood wooden spoons and cooking utensils are all hand-crafted and hand-finished in the Peten region of Guatemala, where we fund various social initiatives to enhance the local economic growth.