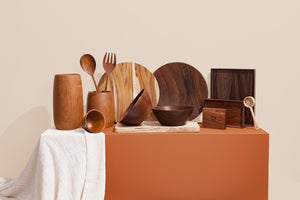 Kitchen & Dining
Cutting boards, home furnishings & unique woodware
Our products are sourced and crafted with unique precision. 

Beyond being a cutting board manufacturer and supplier to exclusive global consumers, wholesalers and design studios, Itza Wood is committed to creating products of great quality.
Each of our decorative items, kitchen utensils, and cutting boards are crafted to highlight the spectacular beauty of the wood they were made from. We use exotic, sustainably sourced woods such as Teak, Granadillo, Chechen, Melina, Jobillo, Mahogany, Pixi, and Ziricote, to ensure that all cutting boards, dishes, boxes, bowls, vases, and trays deliver the finest finish. To view our latest kitchenware designs, view the collection now.